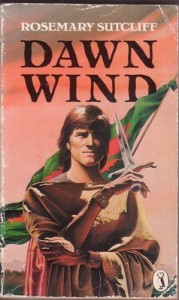 Dawn Wind is the fifth in the sequence of historical novels dealing with the collapse of Roman-Britain that began with The Eagle Of The Ninth. Set in the sixth century it tells the story of Owain, the sole British survivor of a battle near Bath and his struggle to come to terms with the complete destruction of his culture.

As usual with Rosemary Sutcliff, there's a powerful sense of place, and of the changing face of the natural world. The writing is compact and masterful in its use of salient detail to evoke a vanished world. The central characters of Owain and Regina, the girl he befriends in the ruins of the once-proud city of Viroconium, are strongly drawn and the reader cannot help but be drawn into this compelling story of individual lives caught up in a great historical tide.

This is historical fiction at its very best.